Here are some waiver wire targets ahead of matchup number six that you should consider adding. The following recommendations are organized here as deep and shallow league targets. The players you choose to add and drop from your team should largely depend on your league size and roster construction.
Deep League Waiver Targets
C Connor Wong – BOS
In Connor Wong's last seven games, he has three home runs, five runs, four RBI, one steal, and a .588 batting average. He is up to a 3/12/10/1/.286 line on the season.
Wong has essentially equaled his 2021-2022 totals in plate appearances, but has made significant adjustments that have led to improved production this season.
He changed his approach to be more aggressive at the plate, and although it has resulted in a higher chase rate, it has also led to more overall contact.
Plus, the contact he has made this season is excellent. If Wong qualified, he would tie Shea Langeliers and Willson Contreras for fifth in barrel rate among catchers at 10.4%. Wong would tie Elias Diaz at seventh in HardHit rate at 43.8%. That hard contact should help Wong continue to rack up home runs like this one:
CONNOR WONG.
HAVE A NIGHT. pic.twitter.com/1ZejZ9eUpg

— Red Sox (@RedSox) May 3, 2023
Wong would be more appealing if he could lower his 56.5% GB rate, but even still, he makes for a great waiver wire add at catcher this week.
3B/2B Ramon Urias – BAL
Ramon Urias has managed to carve out a role in a crowded Orioles infield, and it has led to solid production, but his background data suggests there is more to come.
Urias has just one home run in 92 PAs this season, despite league-average hard contact metrics. His biggest issue currently seems to some bad luck on fly balls. Just 5.9% of his fly balls have turned into home runs, compared to a career 14.2% rate.
The Baltimore infielder has also shown excellent discipline this season, which has kept his bat in the lineup lately. He has a 75% contact rate, in line with what he has done over his career.
Furthermore, an increased line drive rate helps to legitimize his high .357 BABIP and suggests he can maintain an AVG in the .260s or higher despite adding a few ticks to his strikeout rate from last season.
As long as Urias continues to show up in the lineup, he is worth a waiver add in deep leagues, and can help at multiple positions.
SS Zach Neto – LAA
Zach Neto was called up to the Angels after only 44 minor league games. In 68 PAs, he has four runs, five RBI, one steal, and a .267 AVG.
So far, Neto's plate discipline has been impressive. Despite a 1.5% BB rate, he has just a 14.7% K rate. Pulled line drives result in hits more than any other batted balls, so his 26% LD rate and 56% pull rate are great signs.
If Neto had enough at-bats to qualify, he would be top-20 in both chase rate and overall contact rate. For a rookie, with so few professional PAs, this is an excellent result.
Neto should continue to see the bulk of the playing time at shortstop with not much competition at or close to the major league level. This makes him a great option off waivers for the upcoming week.
OF Matt Vierling – DET
Matt Vierling has two home runs, nine runs, 10 RBI, and four steals with a .281 AVG in 96 PAs. His .365 BABIP is a bit high, which could spell some regression to his AVG, but a 23% LD rate could support a higher AVG.
Vierling's 1.5% barrel and 36.9% HardHit rate are lackluster, but he gets good loft on the ball and could get to double digit home runs along with 15-20 steals. Here is his most recent homer:
Matt Vierling extends the Tigers' lead! pic.twitter.com/lh9q6K9bNF

— Talkin' Baseball (@TalkinBaseball_) May 3, 2023
He has a league-average chase rate and is well above league-average with an 83.5% contact rate, both of which make his .281 AVG look legitimate.
Vierling does not do anything to blow you away statistically but is consistently solid at everything, and that is enough to make him a waiver wire target in deep leagues for the upcoming week.
SP J.P. Sears – OAK
Do not count on J.P. Sears to win too many games this season on a lousy Oakland team. Otherwise, Sears makes for an interesting deep league waiver wire add. Other players like Taj Bradley, Tanner Bibee, and Brandon Pfaadt have had the spotlight, but Sears should get some spotlight too.
If you take Sears' six-run dud against the Angels out of the equation, he would have a 3.97 ERA with 12 earned runs in 27.2 IP. Unfortunately, every game counts and his current ERA sits at an ugly 5.06.
It is promising that after the rough outing against the Angels, Sears came back with a six-inning shutout against the Mariners, striking out seven batters and walking two. Here is how he did that:
A nice night on the mound for JP Sears 👏 pic.twitter.com/TINd8NKRHK

— A's on NBCS (@NBCSAthletics) May 4, 2023
Sears' best quality is his ability to strike batters out, which makes him fantasy relevant. He has a 9.5 K/9 thanks to a fastball and sweeper combo that have batters swinging and missing.
| | | | | |
| --- | --- | --- | --- | --- |
| Pitch | BAA | xBAA | Whiff% | Putaway% |
| Fastball | .245 | .216 | 28.9% | 17% |
| Sweeper | .205 | .187 | 23.5% | 14.3% |
Do not be afraid of the ERA. He should see some positive regression to his home run numbers, and is definitely worth adding from waivers in deep leagues.
Shallow League Waiver Targets
C Cal Raleigh – SEA
Cal Raleigh will likely never win the batting title – his current batting average is .222 and his career AVG is .205, but he can absolutely mash the ball like this 408 ft. home run from April 30:
CAL RALEIGH'S SECOND HOMER OF THE DAY GIVES THE MARINERS THE LEAD pic.twitter.com/Fuh1LDWncl

— Talkin' Baseball (@TalkinBaseball_) April 30, 2023
In 666 career PAs, he has 34 home runs, 67 runs, and 94 RBI. So far this season, he has five home runs, 15 runs, and 18 RBI in 103 PAs.
His BABIP is higher this season than it is for his career, but he added nearly 10% to his line drive rate and pulls the ball well (51%) while barreling the ball a ton (15.5%), which legitimize the uptick in BABIP and AVG this season.
Raleigh also made some adjustments to his approach at the plate that are paying dividends. He is swinging less, and has lowered his chase rate from an average of 38.5% over the past two seasons to 29.7% this year while adding 3% to his overall contact rate to take it up to 73.9%.
With these improvements and his continued ability to hit the ball hard, now is a good time to add Raleigh from the waiver wire if you need some help at the catcher position.
3B/OF Nick Senzel – CIN
Nick Senzel's biggest issue over his career has arguably been his durability. He has seasons of 104, 36, and 110 games (not counting 2020), and entered this season injured.
Since making his 2023 debut on April 13, Senzel has three homers, 14 runs, 12 RBI, two steals, and a .288 AVG. He was named NL Player of the Week for last week after an outstanding seven days.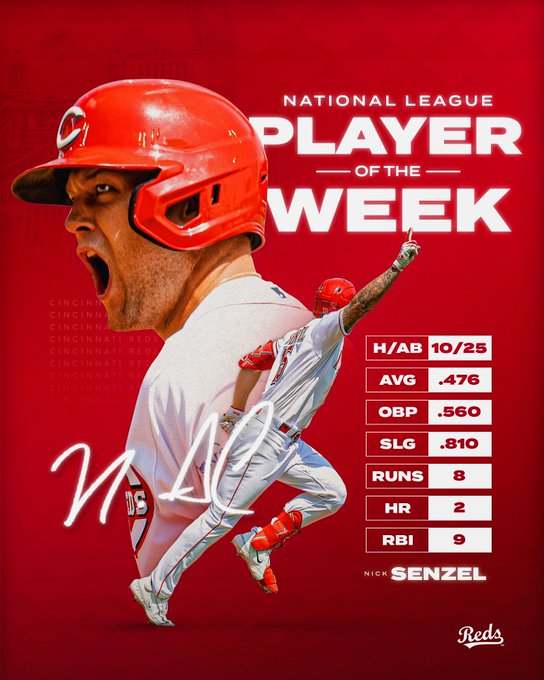 Senzel's hard contact data is below league average, but he manages to make good enough contact to rack up hits, and the placement of his hits should help keep his AVG up. With a 24% LD rate and a 46.3% pull rate, Senzel's .314 BABIP looks sustainable.
He has other positive qualities that fantasy managers should buy into. He improved his BB%, K%, GB%, chase%, and contact% from last season.
As long as he can stay healthy, he should be a viable option at both 3B and OF and has a chance at reaching double-digit steals and home runs. Now is the time to add him from waivers if he is available.
SS C.J. Abrams – WAS
C.J. Abrams has made strides since his 2022 rookie campaign, leading to a productive start to 2023. He has two home runs, 11 runs, 15 RBI, three steals, and a .245 AVG.
He has improved his walk rate, barrel rate, HardHit rate, and line drive rate. These improvements suggest his BABIP and AVG could both actually increase, especially since he also improved his chase and overall contact rates.
Abrams had a 50% GB rate last season, but has reduced it to 44% this season. For someone that does not have much power, getting more balls in the air, especially line drives, is a great trend to see.
Abrams has been especially productive over the last week:
CJ Abrams on April 27: Go-ahead grand slam in the 8th

CJ Abrams on May 2: Go-ahead RBI 1B in the 7th

CJ Abrams tonight: Go-ahead RBI 1B in the 7th pic.twitter.com/JnlaAHUzT1

— Washington Nationals (@Nationals) May 4, 2023
Even though he plays on a team that will likely finish in the bottom of the league, Abrams should continue to get opportunities and looks like he can run with them. Add him from the waiver wire as soon as possible if he is available.
OF Jarren Duran – BOS
Jarren Duran has been absolutely on fire lately. In his last seven games, Duran is 8-for-20 for a .400 AVG with four runs, a home run, and two RBI. On the season, he has two home runs, 11 runs, 12 RBI, and two steals with a .400 AVG.
Regression is certainly coming to Duran, as his BABIP sits at a sky-high .500, but this could be the Duran breakout season we have been waiting for.
For the third season, he has dropped his strikeout rate to its current 23.8%. He has a career-best 14.3% barrel rate and 54.8% HardHit rate. These impressive hard contact numbers, along with a 45.2% FB rate support the idea that Duran could produce some power.
He has also been unlucky with where certain balls have been hit. Perhaps in different stadiums, some of his doubles would have been home runs. Take a look at his spray chart: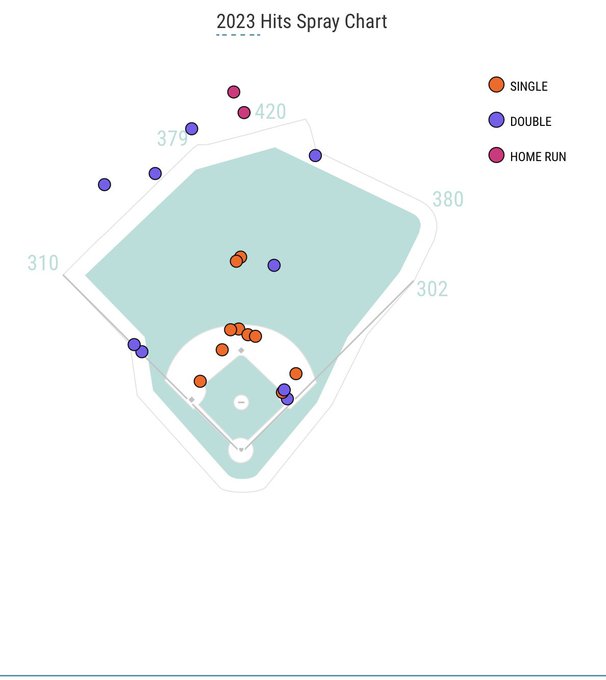 Duran has also improved nearly every plate discipline metric from his stint last season, partially thanks to an approach change. He is swinging 6% less than last season, and has been much more discerning at the plate.
This Jarren Duran looks new and improved and is worth consideration as a waiver wire add for the upcoming week.
SP Martin Perez – TEX
After being a career 4.71 ERA pitcher for the first 10 seasons of his career, Martin Perez turned in the best season of his career last year with a 2.89 ERA and has improved even more this season. After six games, he has four wins and a 2.49 ERA.
His expected ERA metrics are all higher than his ERA, but a few data points suggest that he could outperform those expected stats and still do well.
Perez has a career-best 2.4 BB/9, while inducing a 42.1% GB rate, and stranding runners at an 87% rate. The LOB% is most likely to regress and affect his ERA.
His BABIP and HR/FB rate are both in a normal range, so he has not been fortunate or unlucky in either department.
He seems to be a solid starting pitching option and is worth picking up from waivers if he is available in your league.
Other Players to Add
Here are a few other players available in a range of league sizes that you should consider adding if they are on your waiver wire.
C: Elias Diaz, Shea Langeliers
CI: Brandon Drury, Ezequiel Duran, Josh Jung, LaMonte Wade, Harold Ramirez, Connor Joe, Carlos Santana
MI: Taylor Walls, Ji Hwan Bae, Geraldo Perdomo, Chris Taylor, Isaac Paredes
OF: Jack Suwinski, Victor Robles, Robbie Grossman, Luke Raley, Lane Thomas, Joey Meneses, Alex Call, TJ Friedl
SP: Drew Smyly, Mitch Keller, Josiah Gray, Zach Eflin, Roansy Contreras, Seth Lugo, Hayden Wesneski, MacKenzie Gore, Bailey Ober
RP: Carlos Estevez, Alex Lange, Alexis Diaz, Michael King, Will Smith, Mason Thompson, Andrew Chafin
Prospect Watch
A number of prospects are worthy of consideration for waiver wire claims due to being called up or potentially being called up. Here are a few to consider adding.
NYM 3B Brett Baty – called up, but mostly facing right handed pitching
ChC 1B Matt Mervis – expected to be called up Friday May 5
OAK OF J.J. Bleday – had a hot bat in the minors, but will have to compete for playing time in OAK
SEA SP Bryce Miller – 10 Ks in his debut against OAK, should have a long leash in majors
CLE SP Logan Allen – 16:3 K:BB after 11 IP, but could be demoted when McKenzie and Civale return
CLE SP Tanner Bibee – 13:0 K:BB after 11 IP, but is in the same boat as Allen
LAD SP Gavin Stone – rough debut vs PHI and may not get a start in his next turn through the rotation
ARI SP Brandon Pfaadt – only lasted 4.2 IP in debut, but could stick in majors
OAK SP Mason Miller – tossed seven shutout innings against SEA, but has limited upside for wins
Fantrax was one of the fastest-growing fantasy sites over the last few years, and we're not stopping now. We are the most customizable, easy-to-use, and feature-rich platform in the industry, offering the greatest fantasy experience for your dynasty, keeper, redraft, and best ball leagues. Fantasy sports doesn't sleep, and neither does Fantrax, with seasons running 365 days a year. Take your fantasy leagues to the next level now at Fantrax.com!