Everyone wants a Michael Thomas, Devante Adams, or Julio Jones manning that Wide Receiver 1 spot on their fantasy teams. We all know that in fantasy we can't always get what we want. This year especially you are seeing more running back heavy teams starting out a draft, something I have been saying all offseason is the way to go. You will want to find some productive receivers later in your draft to have some solid depth paired with your early high upside guys. Luckily, there are plenty of undervalued receivers that you can plugin for some consistent production week in and week out.
---
Say what?! Your fantasy football league didn't use Fantrax last year? Unthinkable! Check out all the features Fantrax has to offer, and we think you'll be singing a different tune for the coming season.
---
The Undervalued Captain: Michael Gallup cannot possibly be the WR30, can he?
When I look at my rankings, one of the main things that leaves me puzzled is where Michael Gallup is. As much as I don't want to keep reiterating season-long statistics, I feel like no one realizes he finished with 66 catches for 1,107 yards and 6 touchdowns in 14 games. Going as a WR4 for most teams, he is a clear value. Coming in around pick 75 overall according to FantasyPros ADP, Gallup along with many other players in this range are the reasons I can get behind going RB heavy in the first 4-5 rounds, as I said I actually prefer it. This is one of my favorite mid-round targets.
Gallup only finished with 6 targets fewer (113 targets) than the Cowboys presumed number 1 receiver Amari Cooper (119 targets), who played all 16 games. Cooper currently has a 3rdround ADP as the 28thplayer off the board. This drastic difference in ADP doesn't make much sense to me at all. Nothing has shown me there is a clear alpha receiver in this offense. Defenses having to focus on weapons all over the field should do nothing but benefit Gallup. He and Cooper were both right around a 12-yard average depth of target (ADOT)but it was Gallup who finished 17th in the league in yards after catch (YAC), once again with just 14 games played.
We sat down with @evansilva on our Fantasy Extravaganza to go over sleepers and busts – where do you come down on Michael Gallup? pic.twitter.com/0LCqmB15MO

— Around The NFL (@AroundTheNFL) August 27, 2020
One may think that with the addition of CeeDee Lamb and the hype surrounding tight end Blake Jarwin, Gallup may be the one to lose some production. What is surprising is that the Cowboys actually have the second most vacated targets in the NFL with 190. Randall Cobb and Jason Witten both accounted for 83 targets a piece, leaving plenty of room for Gallup's target share to actually increase in a significant way. I will be grabbing Gallup above his ADP but sit back and let him fall right into your lap to provide a very good every week FLEX with high-end WR2 upside.
Guess who is still undervalued? Yep, Julian Edelman.
This one is a little different discussion. While the stats are something you can definitely turn to for Julian Edelman coming off a very under the radar 100 catch season, let's look at why he isn't being drafted in the top 30 at the wide receiver position.
The main concern for Edelman in 2020 is that he no longer has the greatest quarterback of all-time throwing him the ball, OK fair enough. We all assume Cam Newton will be the starting quarterback for the Patriots and I actually like this pairing for Edelman. Looking back at Newtown's last full season in 2018, Christian McCaffery led the team in targets with 124. This was a whopping 42 targets more than his leading wide receiver D.J. Moore. The reason this is important is that you should expect Julian Edelman to be in this same area of the field. McCaffery ran a similar route tree although it was out of the backfield, they did have him run some slot options as well. Newton will look to get the ball out of his hands quick as Brady did in this offense and his number one separator will be Julian Edelman.
2019 Most Targeted Wide Receivers | FantasyPros
PLAYER
TEAM
1
2
3
4
5
6
7
8
9
10
11
12
13
14
15
16
17
TTL
AVG
Michael Thomas
NO
13
13
7
9
13
12
11
11
bye
14
10
11
8
15
12
17
9
185
11.6
Julio Jones
ATL
11
10
9
7
7
9
9
12
bye
9
8
10
–
8
20
15
13
157
10.5
Allen Robinson
CHI
13
7
7
7
9
bye
16
7
5
9
6
10
12
8
14
12
12
154
9.6
Julian Edelman
NE
11
4
10
7
9
15
12
11
11
bye
10
12
11
12
5
6
7
153
9.6
DeAndre Hopkins
HOU
13
8
7
8
8
12
12
13
11
bye
12
8
8
13
8
9
0
150
9.4
Keenan Allen
LAC
10
15
17
5
6
6
11
10
4
11
12
bye
6
6
10
10
10
149
9.3
Tyler Boyd
CIN
12
10
11
6
14
7
14
9
bye
8
3
9
10
6
7
15
7
148
9.3
Robert Woods
LAR
13
2
8
15
9
4
7
2
bye
11
–
9
18
9
9
11
12
139
9.3
Jarvis Landry
CLE
7
7
9
10
6
5
bye
10
13
10
7
13
11
7
8
9
6
138
8.6
D.J. Moore
CAR
10
14
2
5
8
10
bye
9
10
11
15
9
12
6
12
2
–
135
9.0
James White will certainly be a benefactor of Cam's ability to get the ball to his running back quickly but if you have been following the Patriots in camp, they are struggling to find consistent play from their outside receivers. This offense is sure to revolve around the run game and short area passing game. He is especially undervalued in PPR at his current ADP of WR32. Regardless of format, Julian Edelman represents one of the last true number one wide receivers for their team. It's not a flashy pick, but if you're looking for consistency and reliability in your lineup to pair with some early upside guys, Edelman will always give you just that.
The Number One Wide Receiver for Deshaun Watson? Brandin Cooks
All the Will Fuller V truthers are yelling at me right now, don't worry I like him too! However, when it comes to undervalued players, I am planting my flag on Brandin Cooks in 2020. Last year around this time we were drafting Brandin Cooks in the 4thround due to the presumed high-powered offense he was in with the LA Rams. That was with two proven targets on his same team in Robert Woods and Cooper Kupp. This season he goes to a team with Deshaun Watson, the vacated targets of Deandre Hopkins, and an often-injured wide receiver opposite of him, but we're drafting him in round 8? Yeah, I'm confused too.
A lot of Fantasy managers will undervalue players just based on the recency bias of what they brought to their Fantasy team the year before. I am guilty of this as well; I think we all are. The Texans head coach Bill O'Brien has informed us he has no concern over the injury that caused Cooks to miss time last season, so I'm not buying this as a reason for his ADP. This truly leaves me completely clueless as to why he is currently going as the WR35 in drafts. Will Fuller V will be the starting outside receiver in this offense. Fuller has not played 12 games in a season since his rookie season in 2016 where he played just 14. In the event Fuller misses time, Cooks will be Deshaun Watson's surefire number one target.
Brandin Cooks is a perfect WR3/FLEX target if you focused on running back early or grabbed an elite tight end/ quarterback. His upside is much higher than the other receivers going in this range as he looks for his fifth 1,000-yard season in seven seasons. Grab Cooks at his current ADP as one of the best values in the draft.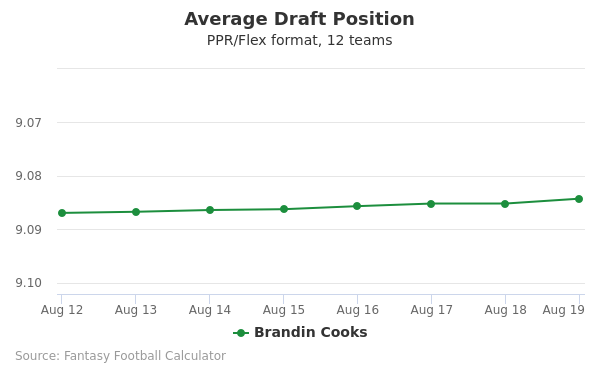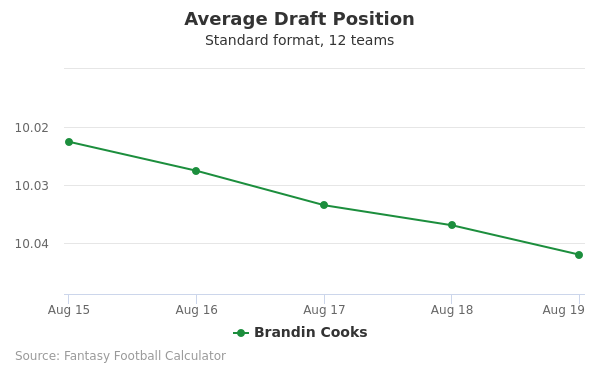 Late Round Honorable Mentions: Henry Ruggs III and Bryan Edwards
Everyone should have Las Vegas Raiders rookie wide receivers Henry Ruggs and Bryan Edwards on their late-round radar. Talk about undervalued, these guys could represent an NFL number one receiver going outside of the top 50 wide receivers in drafts. Ruggs is going as WR51 and Edwards as WR69. These values are even more intriguing in the double-digit rounds is due to recent news that projected starter Tyrell Williams will miss the 2020 season with a shoulder injury. At this ADP, I would not be surprised if one of Ruggs or Edwards ends up being one of the more undervalued receivers in Fantasy.
---
Fantrax was one of the fastest-growing fantasy sites of 2019, and we're not letting our foot off the pedal now! With multi-team trades, designated commissioner/league managers, and drag/drop easy click methods, Fantrax is sure to excite the serious fantasy sports fan – sign up now for a free year at Fantrax.com.