Okay, maybe considerably was a bit harsh. Over the last eight years, Byron Buxton has showcased impressive tools on both sides of the ball while flashing greatness here and there. But at this point, there are too many cons to rank him as highly as we have been. I'll get into why below, but if you're a Buxton supporter or truther, you're not going to leave this article with a grin on your face.
Byron Buxton's Profile & Dynasty Value
Elite Power
Let's start with Byron Buxton's power profile, a no-doubt positive area of his offensive profile. Through all the injuries and performance inconsistencies, Buxton's power has remained elite over the last three seasons, as seen below.
| Year | Barrel | Hard-Hit | AVG EV | SLG | ISO |
| --- | --- | --- | --- | --- | --- |
| 2020 | 13.5% | 47.9% | 91.2 mph | .577 | .323 |
| 2021 | 17.9% | 53.8% | 92.5 mph | .647 | .341 |
| 2022 | 15.8% | 49.7% | 92.7 mph | .531 | .315 |
Before 2020, Buxton's power was inconsistent as well. But all of that raw power finally translated into those sexy metrics you saw above, and the game power followed suit. Buxton has clobbered 55 home runs in 173 games over the last three seasons and has 23 this season, good for 5th most in the American League and 8th most in MLB. And when you look at the last three seasons, here is how Buxton ranks in power metrics among the 224 players with 650+ plate appearances. (Buxton has 693 since 2020 OD)
SLG: .583 (4th) | ISO: .326 (1st) | Hard-Hit: 50.7% (12th) | Barrel: 16.2% (14th) | AB/HR: 11.6 (1st)
Simply put, Buxton has been one of the most prolific power hitters in the game over the last three seasons. But the problem is, he's only accumulated 693 plate appearances during this timeframe which is why he's only 33rd in total home runs despite having the best AB/HR rate. You'll notice this being a common theme throughout this article.
With the metrics he's shown lately along with him being in his physical prime at age 28, I'm expecting this level of power production to continue moving forward. Whenever he's on the field, Buxton is a 40+ homer power bat.
Contact and Approach
Once we move past Buxton's quality of contact metrics, the shine in his profile diminishes significantly.
Out of all the metrics you see above, the only one that checks in as better than league-average is his 26.6% chase rate this season. That's it. After seeing his contact and zone contact rates climb to career-best marks in 2020, they've both dipped in each of the last two seasons. On top of that, Buxton's strikeout rate is once again tickling the 30% threshold after three seasons of the mark being in the mid-20s. It's nice to see his walk rate climb to a career-best 7.9% this season (still below league average), but his strikeout, whiff, and contact metrics more than offset that gain.
All in all, Buxton is a career .244 hitter with a .298 OBP that is hitting .216 this season. I'd bet a substantial amount of money that his .306 AVG and .358 OBP from last season will wind up being his career highs in each category. And honestly, if he had played more than 61 games, I'm sure each of those would've fallen a bit. That's just how it goes with Buxton, unfortunately. Consistency has been a major issue for Buxton across the board. Just take a look at his rolling wOBA throughout his career.
After seeing this chart, I gave my good pal Katy Perry a call and asked her what she thought of Byron Buxton. Here's what she responded with…
'Cause you're hot then you're cold
You're yes then you're no
You're in then you're out
You're up then you're down
Very fitting.
Where Did The Speed Go?
Technically, the answer is nowhere. After ranking in the 100th percentile for sprint speed in each of his first five seasons, Buxton's sprint speed has still been 99th, 99th, and 94th percentile over the last three seasons. However, he's combined to steal only 13 bags in 15 attempts over his 173 games since the start of the 2020 season. That equates to one steal every 13.3 games after averaging one steal every 6.6 games through his first five seasons. That pace has been cut in half over the last three seasons and has really taken a nosedive this season as Buxton has only attempted two steals, converting both of them.
There's no doubting that Buxton has elite speed with an elite success rate (88%), but those don't always correlate to lofty stolen base totals. Having the desire to run is at least half the battle and that desire seems to have gone into hibernation for Mr. Buxton.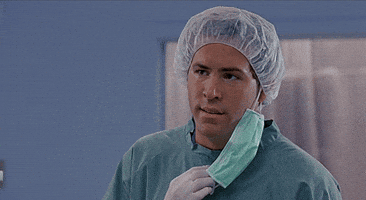 That's a great question Ryan Reynolds! I'm sure that's the question on many fantasy managers' minds. But unfortunately, I don't have the answer to that question. Could Buxton possibly be sacrificing his steals to try and stay on the field more consistently? Possibly. But that's pure speculation. For now, it doesn't look like we can count on more than the occasional steal from Buxton, which further diminishes his fantasy value moving forward.
Durability Issues
Hopefully, you're in a comfy chair with some popcorn and your drink of choice because this is going to be a doozy.
| Year | Games Played | Time Missed | Injuries |
| --- | --- | --- | --- |
| 2015 | 46 (of 100) | 2 Months | Thumb |
| 2016 | 92 | 2 Months | Knee & Back |
| 2017 | 140 | 3 Weeks | Groin & Migraines |
| 2018 | 28 | 5 Months | Migraines, Wrist, Toe |
| 2019 | 87 | 3 Months | Concussion, Wrist, Shoulder |
| 2020 | 39 (of 60) | 3 Weeks | Concussion & Foot |
| 2021 | 61 | 3.5 Months | Hamstring, Hip, Hand |
| 2022 | 73 (of 94) | 3 Weeks | Hip & Knee |
That's basically a game of Operation on steroids. If Byron Buxton's injury history was a song, it'd be that head, shoulders, knees, and toes song that we all learned when we were three years old. It's entirely possible that I missed some injuries as well when researching his injury history as there have been so damn many.
Since Buxton debuted on June 14th, 2015, the Minnesota Twins have played 1,064 games. Buxton has played in just 566 of them. For those of you that like percentages, Buxton has played in only 53.2% of his team's games since his debut more than seven calendar years ago.
To take it a step further, Buxton has only exceeded 100 games once and has played in 50+% of games in only four of seven seasons entering 2021. He's currently on pace to exceed 100 games this season, but there's certainly no guarantee that he plays 29 games over the next 2.5 months. This is Buxton we're talking about after all.
So… What's The Verdict?
Even if Buxton was consistently posting elite production (like Fernando Tatís Jr), missing as much time as he does makes it hard to count on him as a top-50 player. Then add in that his elite production has only been in brief glimpses and his production is wildly inconsistent, it makes his case for top-50 overall even bleaker.
At this point, I'm done valuing Buxton as a top-50 dynasty player. Does he have the skills to be top-50 again? Absolutely. I'd be a fool to say no to that question. However, until he shows more consistent production and the ability to actually stay on the field for 140+ games a season, he's not going to crawl back up into that range of my rankings.
If you can trade him to someone that still values him as a near top-25 player or top-50 at least, I'd strongly consider dealing him away. And from the looks of the below poll, you can likely find at least a handful of people in your league that value him that highly.
How do you value Byron Buxton for dynasty?

Gonna cite this in an upcoming article.

— Eric Cross (@EricCross04) July 20, 2022
Media Credit: Baseball Savant, Fangraphs
---
Fantrax was one of the fastest-growing fantasy sites over the last few years, and we're not stopping now. We are the most customizable, easy-to-use, and feature-rich platform in the industry, offering the greatest fantasy experience for your dynasty, keeper, redraft, and best ball leagues. Fantasy sports doesn't sleep, and neither does Fantrax, with seasons running 365 days a year. Take your fantasy leagues to the next level now at fantrax.com.