The name of the game in Fantasy Sports is value. And the holy grail of value involves finding the very best sleepers that can take your teams from average to championship caliber. The trend in early Fantasy Football drafts seems to be waiting on quarterbacks. Sometimes you should zig when everybody else zags, but this is not one of those times. Waiting on QBs is a good idea. It just means you have to make smart choices toward the end of your draft. Today we'll look at the late-round QB sleepers that will have you looking like a genius.
QB Sleepers for 2018 Fantasy Football
What defines QB sleepers? It certainly doesn't mean most hyped and talked about players throughout the offseason. There's nothing sleepy about that. Does Jimmy Garoppolo classify as one of the QB sleepers this season due to his strong showing in such a short sample size in 2017? The fact that he's been hyped so much heading into 2018 should be a warning sign in itself.
It's resulted in a high ADP as you'll see below. QB sleepers should be players nobody has on their radar, with the upside to be a full-time starter in Fantasy Football. QB sleepers should also be pass throwers who are going much later in drafts than they really should, providing value at a position that is already so deep. Below are a couple of QB sleepers for the 2018 Fantasy Football season. If you're unsure how to go about drafting a QB, check out my standard draft strategy.
Andrew Luck, Indianapolis Colts
It's hard to imagine leading off this article with Andrew Luck, let alone calling him a sleeper, but he hasn't thrown a pass in the NFL since January 1st, 2017. The long time off between picking up a football has resulted in a ninth-round average draft position. Luck is currently ranked as QB13, according to Fantasy Football Calculator. His ADP is sure to rise as we get closer to the season, especially if he can stay healthy.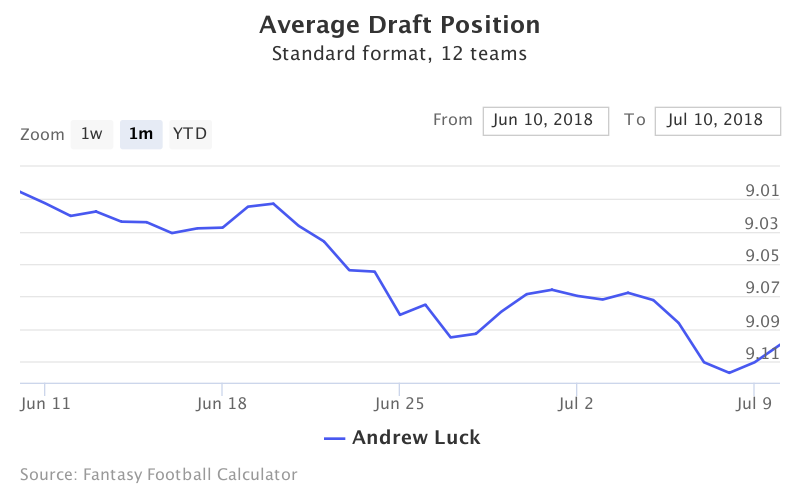 You can already see the rise two weeks into July. The definition of a sleeper in my mind, means value. If you're getting Andrew Luck at the end of the ninth round, that's big time value. He has the upside to finish as a Top-5 quarterback. Know it's a risk, but it's one you should be willing to take at that point of your draft. Take a second QB later on just in case things don't work out, but if they do you'll be loving it. If he starts to rise into the fifth or sixth round, then his 'sleeper' value diminishes.
Luck has thrown for at least 4,000 yards in three of his four full seasons in the NFL, and as much as 4,761 yards in 2014. He also has 1,442 rushing yards on the resume with 14 rushing touchdowns. The former first-overall pick has finished as a Top 4 QB three times and a Top 10 in four of his five seasons. He played seven games in 2015, but was still on pace to throw for 4,200 yards and 33 touchdowns. That type of upside makes him one of the top QB sleepers for the coming season.
Mitch Trubisky, Chicago Bears
Mitch Trubisky threw for fewer than 200 yards in nine of his 12 games, including his first four where he averaged 128 yards passing. Trubisky was real solid in about three games last season where he totaled 297 yards, to go along with a 271 and 314. It's hard to knock Trubisky's poor output in his rookie season with the Bears' lack of weapons in the passing game.
Rookie running back Tarik Cohen's 53 catches were second on the team in 2017, just six behind Kendall Wright. Josh Bellamy, Dontrelle Inman, Markus Wheaton and Benny Cunningham aren't exactly the best group of weapons for a rookie QB. I say Cunningham, because there were times when he finished with the second most catches in games for the Bears last season.
Think of Trubisky's potential progress the same as what we saw with Carson Wentz in 2017. Wentz and Trubisky were both taken second overall in their respective draft years and both showed potential in their first season, but didn't have a lot to work with.
---
It's time to ramp up your fantasy football prep. For great draft strategy, rankings, and fantasy football analysis check out the 2018 Fantrax Fantasy Football Draft Kit.
---
The Eagles upgraded their offense significantly in Wentz's second season by signing Alshon Jeffery, Torrey Smith, LeGarrette Blount and trading for Jay Ajayi. The Bears have done the same thing for Trubisky by signing Allen Robinson, Trey Burton and Taylor Gabriel. They also drafted Anthony Miller in the second round.
Chicago has a solid offensive line and two running backs in Cohen and Jordan Howard who can play. Maybe the biggest move of all is the hiring of Matt Nagy who took over the play calling for Andy Reid and the Kansas City Chiefs toward the end of the season and into the playoffs. Again, just like the Eagles when they hired Doug Pederson, who had also taken over some of the play calling duties from Reid before his departure. Like Reid, Nagy has a history of utilizing running backs, especially through the air. He should be able to work wonders with Howard and Cohen. A strong run game will only help Trubisky, who is mobile himself.
Trubisky hit some pretty solid rushing yard totals last season (53, 53, 44, 32, 22 & 19) which I think is a sneaky part of his value. He had 41 rushing attempts and finished with 20.7 rushing yards per game, which ranked ninth among QBs with at least 12 games played. It's also slightly more than what Blake Bortles finished with and he had the seventh most rushing yards (322) at the QB position. Trubisky also chipped in with two rushing touchdowns.
It was pretty easy for teams to stack the box against Howard (also a sleeper) when there was no real threat in the passing game. Robinson is a big time player who has a 14-TD campaign on his resume and 20 total in the two seasons prior to his knee injury. Burton performed admirably in Philadelphia, scoring three touchdowns in two games when Zach Ertz was sidelined. This Bears offense will be better and Trubisky will play a big part in that. He won't be on anybody's radar in 12-team standard leagues, but he makes for a solid QB2 in super-flex formats. He's a great keeper and will help those who like to stream the position. Come mid season, I think you'll see him flirt with top 15 status.
NEW #10BearsThings column: 10 important questions for the 2018 #Bears season. How much will Mitch Trubisky improve? What are fair expectations for Kevin White? https://t.co/YS1oQcWmKx

— Adam Hoge (@AdamHoge) July 11, 2018
Honorable mentions: Philip Rivers, Patrick Mahomes
2018 QB Busts
Deshaun Watson, Houston Texans
Let me get this out of the way immediately…I think Deshaun Watson is awesome. He has a lot of potential and we saw a bit of it last season. Watson threw for 1,699 yards and 19 touchdowns in seven games. He added another 269 yards on the ground with two rushing touchdowns. That's 38.4 rushing yards per game which is like starting with a touchdown. The former 12th overall pick had three games with at least four passing touchdowns and we all remember the 402 yard game in Seattle where he had four passing touchdowns with 67 rushing yards.
OK, so why the bust warning? He's simply going too early. Again, looking at Fantasy Football Calculator, Watson is listed as QB2 and will cost you a third round pick. Really? You're going to take him over Tom Brady, Russell Wilson or Cam Newton? Or a solid RB2 or WR1?
I realize the connection he had with DeAndre Hopkins and what a weapon he is for a QB, as well as the absurd TD connection he had with Will Fuller. Hopkins is legit, but who's to say Fuller's 279 yards and seven touchdowns in four games with Watson is sustainable? I don't! They looked great together, but don't be shocked if there is some major regression there.
Watson is a fine quarterback and his future looks bright, but build yourself a nice foundation before you go drafting a QB. He still has a lot to learn as he threw eight interceptions, including three in that Seahawks game. Look back to 2015, when Cam Newton went undrafted in Fantasy leagues and went on to win the MVP. He finished as the No. 1 QB in fantasy, only to follow it up with a QB15 finish the next year when he was the consensus No .1  pre-ranked QB heading into drafts. We knew much more about Newton at that time than we know about Watson right now as he heads into his second season, and hopefully his first full one.
Watson is working his way back from a torn ACL after suffering the injury during a non-contact play in practice. All reports suggest Watson looks good and will be on the field come Week 1. If he falls to the 5th or 6th round as the fifth or sixth QB off the board, then you did yourself good.
Deshaun Watson – The Key For The Houston Texans https://t.co/eblkBUIh0Q pic.twitter.com/TPHg7qdZfe

— TSJ 101 Sports: NFL (@T101SportsNFL) July 11, 2018
Jimmy Garoppolo, San Francisco 49ers
Jimmy Garoppolo played five games last season, threw seven touchdowns with five interceptions and is getting drafted as the seventh quarterback off the board on average. He won all five of those games and gave the 49ers something to look forward to, but he did it against some poor defensive teams (CHI, HOU & TEN). His Week 16 game against the Jaguars was impressive, but he faced a rested Rams team in the final game of the season.
I'll admit I like some of his weapons, and Kyle Shanahan seems to know what he's doing offensively, but there are plenty of reasons to be cautious. I'm a fan of the Jerick McKinnon addition, but he's never been able to handle a full work load, especially between the tackles. George Kittle is nice, but he's heading into his second year. Are we buying into a few good games from Marquise Goodwin? How about Pierre Garcon, who is coming off a neck injury that caused him to miss eight games?
It'll be interesting to finally see Jimmy work as a starter, and I'm sure he'll benefit from a full offseason working with Shanahan, but his expectations in the Fantasy community are too high. There's more risk in taking him in the middle rounds than there is to wait it out on Matthew Stafford, Philip Rivers, Andrew Luck or even Ben Roethlisberger. He's more of a low-end QB1 and you shouldn't take those in the seventh round. Do you really want to draft two quarterbacks after reaching on Garoppolo? The answers should be no.
Honorable mentions: Jared Goff, Dak Prescott
You're doing all the prep, now make it pay off! Head on over to Fantrax to start or join a Fantasy Football league. At Fantrax you can draft a team 364 days a year… Sorry, we had to give the IT guy one day off.